Brussels Airlines welcomes the summer season with strong passenger growth thanks to new destinations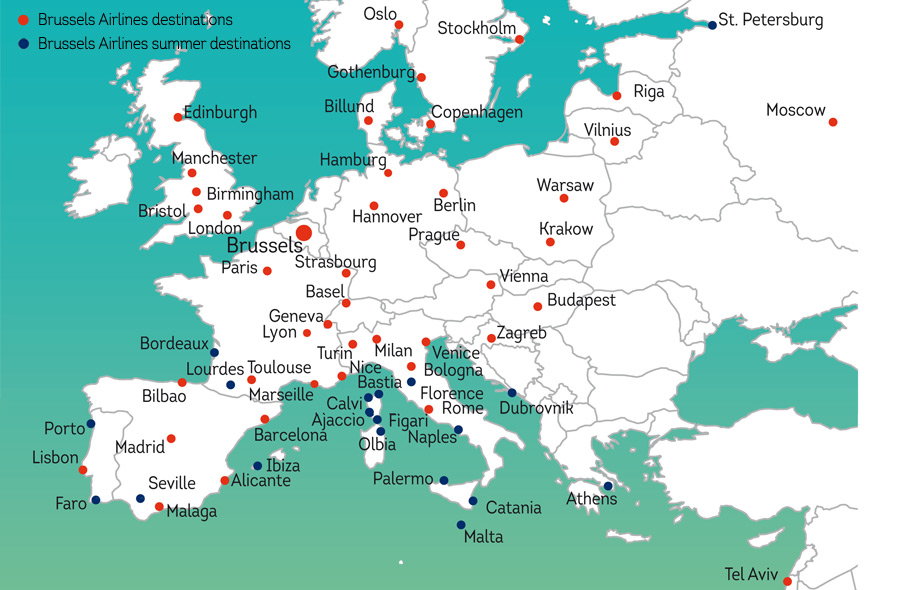 Brussels Airlines got off to a strong start of the summer season. The number of passengers increased by ten percent during the Easter period. The ten new destinations launched by the airline right before Easter are proving to be very popular. Brussels Airlines forecasts a passenger growth for the rest of the summer season. Compared to last year, the airline increases its number of flights by 7 percent.
European network
More (sun) destinations, more flight frequencies and competitive fares thanks to the new travel options Check&Go, Light&Relax, Flex&Go and Bizz&Class. The reactions of the market are positive: not only did it result in a passenger growth, the seat load factor grew as well. These are the main new ingredients in Brussels Airlines' European offer for summer 2015. During an average summer season week, the airline will operate 7 percent more flights on its European network.
With Bordeaux (3 flights/week), Dubrovnik (2 flights/week), Lourdes-Pyrenees (2 flights/week), St-Petersburg (3 flights/week), Calvi (1 flights/week), Olbia (2 flights/week) and Ibiza (2 flights/week in July and August), Brussels Airlines adds popular summer destinations to its portfolio. In addition, two European capitals join the network: Riga (6 flights/week) and Zagreb (6 flights/week as from September). Billund (12 flights/week), the gateway to the Danish region SüdJüdland, is the last addition to the summer schedule.
For several existing destinations, the flight frequencies will increase to offer passengers even more freedom of choice. Tel Aviv will be connected with Brussels Airport two times a day. Compared to last year, more frequencies are added to Athens, Faro, Florence, Malta, Marseille, Seville, Venice and Vilnius. The seat offer to Birmingham, Hamburg, Lyon, Prague and Strasbourg also increases thanks to the use of larger aircraft types.
Long haul network

Washington returns to the Brussels Airlines long haul network and will be served five times weekly. The new schedule (morning departure from Brussels Airport, early evening departure from Washington Dulles Airport) offers excellent connection possibilities to travel to many other East- and West Coast cities via Washington.
For the Kinshasa route, that Brussels Airlines operates on a daily basis, the number of direct flights increases from three to four per week.
Competitive fares and a family product
Thanks to the new Check&Go product of Brussels Airlines, return flights are already available from €69, and for those traveling with their family, the airline has launched b.family. This service package includes child discounts, Brussels Airport parking discount, guaranteed seats next to each other, 12kg hand luggage per child, priority boarding and a kids toy on board.

The Loft
Bizz&Class passengers and frequent flyers who fly within the Schengen area, can now enjoy the new Brussels Airlines lounge "The Loft". Since the opening of "The Loft" last autumn, the lounge has quickly become the place to be at Brussels Airport and a reference in comfort and technology.
Fleet composition summer 2015
Long haul
5 Airbus A330-300
3 Airbus A330-200
Medium haul & short haul
7 Airbus A320
18 Airbus A319
12 AVRO RJ100
Regional
2 Regional aircraft Bombardier Q400 (DH4)
1 Embraer RJ145