Dieter Vranckx new Chief Executive Officer and Chief Commercial Officer of Brussels Airlines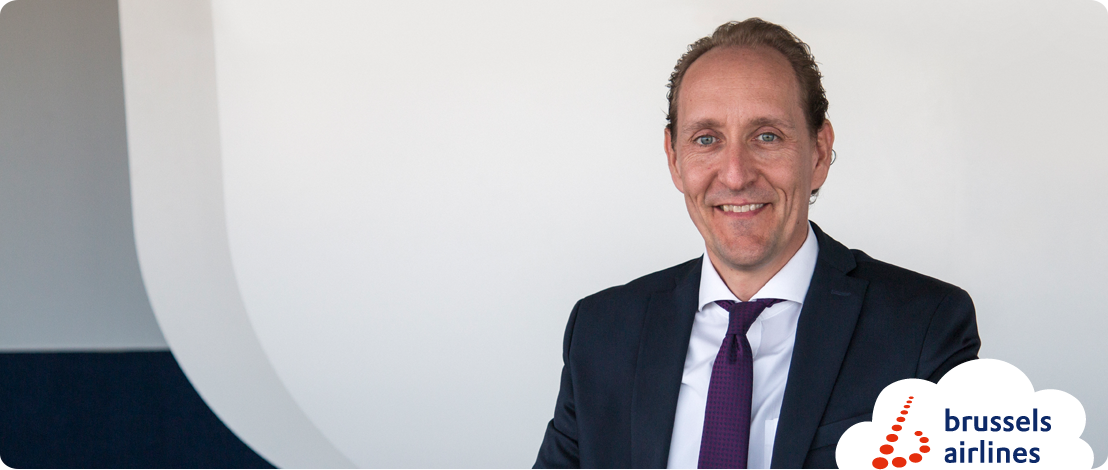 Brussels, 11th December 2019 – As of January 1st 2020, the Belgian Dieter Vranckx will become the new CEO of Brussels Airlines and herewith report to the SN Airholding Board of Directors. Next to his responsibilities as Chief Executive Officer, Dieter Vranckx will hold the position of Chief Commercial Officer at Brussels Airlines. He herewith takes over the responsibilities of Christina Foerster, who has joined the company in 2016 as CCO and has been leading the airline since April 2018. Mrs. Foerster will as of 1 January 2020 join the Lufthansa Group Executive Board, heading the "Customer & Corporate Responsibility" of the Group. 
Dieter Vranckx (46), since May 2018 Chief Financial Officer and Deputy CEO of Brussels Airlines, will as of January 1st 2020 lead the Brussels based Lufthansa Group network airline, as well as the Commercial departments of the company. 
After completing his Commercial Engineering studies in Brussels, Dieter Vranckx obtained a Master of Business Administration at the Solvay Business School. In 2007 and 2016, he pursued Advanced Management Programs at the London Business School and the IMD business school in Lausanne.
 In 1998, Vranckx held the position of Operations Manager at Sabena, before joining Swissair in Zurich in 2000 as Senior Manager Network Planning Europe.
​At the end of 2001, he was part of the network planning team setting up the newly created SN Brussels Airlines network.
​​ Between 2001 and 2016, he headed several departments within the Lufthansa Group.
In this way, based in Hong-Kong, Dieter Vranckx led between 2003 and 2006 the Asia Pacific markets for Swiss International Airlines. After 2006, he acted as Vice President Asia & Africa for Swiss WorldCargo. From 2010 until 2013, he was Regional Director USA Midwest and Canada at Lufthansa Cargo and between 2013 and 2016 Vice President Home Markets at Swiss International Air Lines. 
From 2016 till 2018, Vranckx was leading the Lufthansa Group Sales in Asia Pacific, based in Singapore.
"Dieter Vranckx is well-known to the aviation industry. Since more than one year he is successfully fulfilling his role as Chief Financial Officer of Brussels Airlines. He is also heading the company's turnaround plan REBOOT aiming at reaching structural profitability as of 2022. As real aviation expert and all-round manager who is very familiar with the Lufthansa Group, he is the right person to bring Brussels Airlines to the next level, together with his teams.
​​
​At the same time, I wish to thank Christina Foerster for her exemplary commitment the last three years, bringing Brussels Airlines not only even closer to the Lufthansa Group, but increasing the company's competitiveness by setting the right priorities and establishing a strong managerial structure. Together with my colleague Jan Smets, I wish Mrs. Foerster the very best with her new responsibilities. I am sure that her in-depth knowledge of Brussels Airlines within the Lufthansa Group Executive Board will further promote the synergies between the two companies."
​​
​- Etienne Davignon, Co-Chairman of the Board of Directors of SN Airholding
With her excellent people management skills and her perseverance in bringing departments closer together in order to achieve even greater goals, Christina Foerster succeeded in putting Brussels Airlines on the map – not only in terms of the company's Africa expertise, by establishing the Lufthansa Groups Sub-Saharan Africa Competence Centre in Brussels, but also by further developing the airline's customer centricity and its capability of addressing the future with the right mindset.
​​
​With his long and extensive background in the aviation industry as well as with his excellent analytical and commercial skills, I am convinced that Dieter Vranckx will succeed in further bringing Brussels Airlines to new heights.
​I wish both a lot of success in their respective new functions.
​​
​- Thorsten Dirks, Co-Chairman of the Board of Directors of SN Airholding and CEO of Eurowings
 The new CFO of Brussels Airlines will be designated in due time.