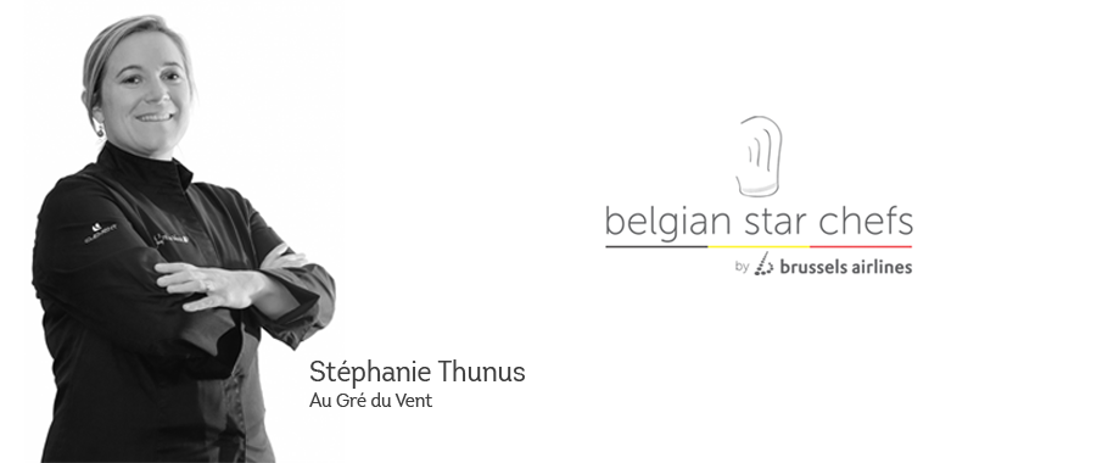 Lady chef Stéphanie Thunus and Brussels Airlines create gastronomic experience at 30,000 feet
Thursday, December 7, 2017 — Brussels Airlines continues its promotion of Belgian gastronomy on board its intercontinental flights, thanks to a new collaboration with lady chef Stéphanie Thunus of Michelin-starred restaurant Au Gré du Vent in the Belgian province of Hainaut. Business Class passengers will be treated to Chef Thunus' menus throughout 2018 on their way to Africa, the US and India.
As an ambassador for Belgium, Brussels Airlines strives to bring the best of Belgium to the world. Since 2013, the airline works with internationally acclaimed chefs to promote Belgian gastronomy towards its international audience. After collaborations with chefs from different provinces in Belgium, it's now lady chef Stéphanie Thunus' turn to create a culinary experience up in the sky, on board the airline's Business Class to intercontinental destinations.
Together with her husband, maître d'hôtel Sébastien Guchet, Stéphanie runs Au Gré du Vent since 2012 in her birth village Seneffe. Only one year after opening, the couple earned a first Michelin Star, which it has maintained until today, and Gault & Millau gives the restaurant a 16/20 rating in 2017. The chef likes to work with local seasonal produce, including products from her parent's farm right across from the restaurant. In her dishes, she loves to keep ingredients pure to enhance their natural flavor.
On the first menu in January 2018, Brussels Airlines passengers will find delicacies like quail mousse, veal check with salsify, tarragon and violet mustard and yellow Pollock with saffron sauce.
To complement chef Thunus' dishes, a special variety of beer from the region has been included in the menu, from Brasserie de la Haute Senne and Brussels Airlines also includes Belgian wines in its onboard wine offer. To finish their 4-course meal à la belge, passengers are offered a selection of beautiful Belgian cheeses by cheese affineurs Van Tricht.
Chef Thunus' menus will be served on board from January to December 2018.
The collaborations with Belgian star chefs is only one of many ways Brussels Airlines markets itself as thé Belgian airline. The airline also serves Belgian choclates and delicacies on board, its crew uniforms are designed by Belgian brands Xandres, Bellerose and Ambiorix and in the last three years Brussels Airlines has repainted four of its planes with special liveries dedicated to Belgian icons Tintin, Magritte, Red Devils and Tomorrowland.