Partnership between Brussels Airlines and eCab brings travelers from door to door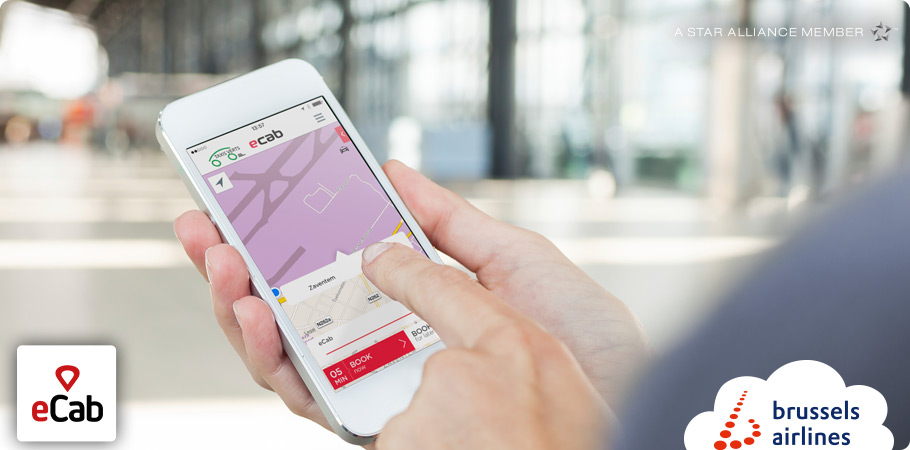 Brussels Airlines and Taxis Verts launch their cooperation with a first joint action. The two companies have concluded a partnership and offer their clients a 15 euro discount for their taxi ride between Brussels Capital Region and Brussels Airport. Brussels Airlines customers can take advantage of this discount when they check in online for their flight and they order a taxi via the Taxis Verts app called eCab. The promotion is valid as of today until the end of June.
Brussels Airlines passengers who travel between now and end of June receive a discount code when they check in online for their flight. The code can be used to order a taxi ride via the eCab application, with 15 euro discount.
eCab is the mobile app to order official taxis. The app has a very user friendly user interface that allows you to follow the arrival of your taxi live, to rate your taxi driver and to choose your preferred payment method. Thanks to geo location it is no longer necessary to know the exact address for your pick-up, you can just request to be picked up at your current location. The app is free and available for download from the Apple Store and the Google Play store. With the app, Taxis Verts wants to offer more comfort and simplicity to its customers and wants to respond to the evolution of the modern consumer who is becoming more and more mobile.
This action is part of a broader collaboration between Brussels Airlines and Taxis Verts. "We are constantly on the lookout for new concepts and partnerships to improve and personalize the service towards our customers even more", says Xavier Lagardère, Vice President Online Retail and Distribution at Brussels Airlines. "The ride to and from the airport is part of the travel experience. Thanks to this partnership, our guests can easily plan their travel from door to door, and with a discount".
"With eCab we want to offer an innovative solution that allows our customers to order a taxi in an easy way, and with a high quality service. We currently have a 90% satisfaction percentage and this number keeps growing. With this partnership we can offer a solution for the end-to-end transportation needs of our mutual customers", says Jean-Michel Coutroy, CEO of Taxis Verts.
The eCab app is currently being rolled out in different cities. Today the app is available in Brussels, Amsterdam, Paris, Lyon, Bordeaux and five other French cities.
Other cities will be added to this list in the near future, including several Brussels Airlines destinations like Rome, Berlin and London.
The partnership between Brussels Airlines sand Taxis Verts will later be expanded to new innovative services to further improve the travel experience and to create added value for their mutual clients.
More information on brusselsairlines.com
About eCab
eCab is a European and international brand of taxi reservation services, available via a mobile application. The service is currently available in Brussels, Amsterdam, Paris and seven other French cities and will be expanded to nearly twenty destinations. eCab offers a unique experience in all big cities by creating the first ever international alliance between taxi companies.
The app eCab was developed in cooperation with Taxis Verts, who manages the service in Brussels. The Brussels-based company, which celebrates its 125th anniversary in 2015, is constantly looking to adapt to the needs and expectations of its clients across its different platforms.
More information: http://www.ecab.be