Three Belgian craftswomen create a unique amenity kit for Brussels Airlines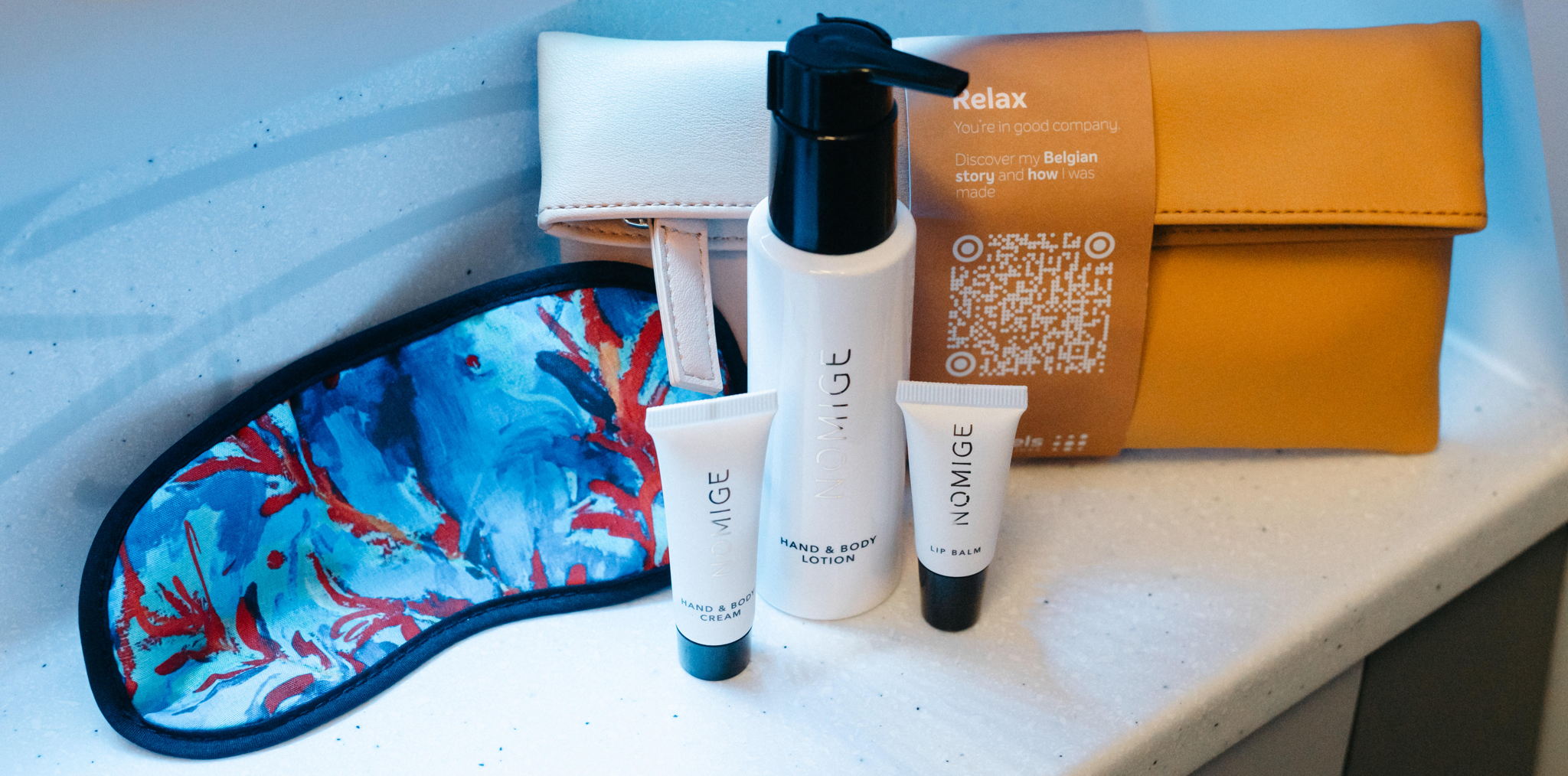 Brussels, 2 October 2023 - After successful collaborations between Brussels Airlines and famous Belgian brands such as Natan and Rainpharma, it is now time for three eminent entrepreneurs from Ghent to design the amenity kit for business class passengers on Brussels Airlines' long haul flights. Handbag designer Griet Aesaert, skincare expert Barbara Geusens of Nomige and artist Elisia Poelman worked together to create an exceptional item.
Brussels Airlines aims to create a boutique hotel experience in the sky. "A collaboration with three independent entrepreneurs fits perfectly. It also underlines our Belgitude, where we show the world the best of Belgium", says Sandy Coenen, Inflight Product Equipment Manager at Brussels Airlines. "These three ladies understood perfectly what we need. They were so enthusiast and had such a positive attitude during each interaction we had. They have different backgrounds, and a shared passion for design, style, and comfort. They created a unique collector's item."
The collaboration between Brussels Airlines and the craftswomen is set-up for two years. Every six months, a new design and color will be introduced. During the collaboration, four different amenity kits will thus be revealed.
Aesaert, a timeless pouch
​Griet Aesaert of handbag label Aesaert is known for her timeless designs from high quality Belgian leather. She created the pouch of the amenity kit. Griet has her own collection of handbags and creates tailor made bags, fully personalized for her customers. One of the unique features of her work are the extraordinary inner linings. They give her designs a unique appearance. "Tailoring is part of our DNA. As soon as I heard about the idea to create colorful amenity kits for Brussels Airlines, I immediately thought about Elisia Poelman", says Griet Aesaert. ​
​www.aesaert.be
Elisia Poelman, dreamy inner linings
​Artist Elisia Poelman likes to stimulate imagination with her paintings. Her contribution to the amenity kit is no exception. Travelers are encouraged not only to travel physically, but also to take a trip in their imagination. The inner linings of the amenity kit are an extraction from the artwork "A tourist in a dream", a painting by Elisia Poelman. The eye masks of the amenity kit will also be an impression of her work. A few of her artworks will soon be showcased in The Loft, a Brussels Airlines' lounge in Brussels Airport.
​elisiapoelman.com
Nomige, tailor made skin care
​Dr Barbara Geusens, skin care expert and founder of Nomige, adds her scientific expertise to this collaboration. Nomige is known for personalized and innovative personal care products. The lip balm and lotion in the amenity kit are created especially for Brussels Airlines. "Both skin care and traveling have always been my passions. This collaboration, where my products travel the world and gain international fame is a dream coming true," says a proud Barbara Geusens. "These products are designed specifically to take care of your skin during a long flight."
Practical information
​Each business class passenger on Brussels Airlines' long haul flights to sub-Saharan Africa and the United States will soon be presented with this exclusive gift.