15.8% more passengers for Brussels Airlines in February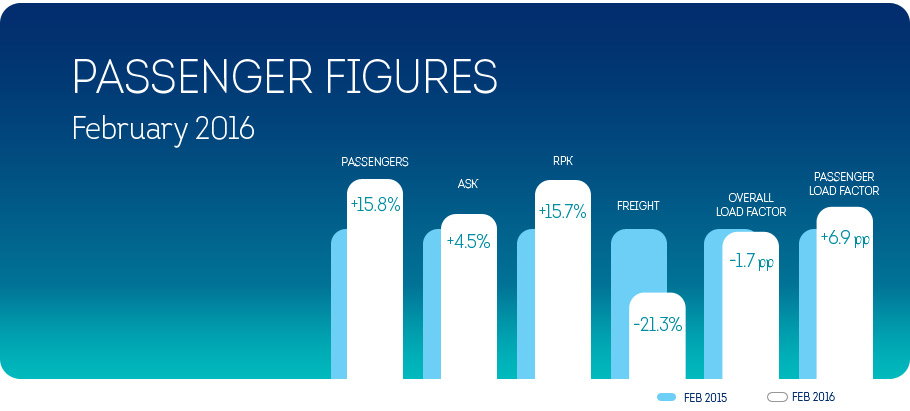 Brussels Airlines can look back on strong growth figures in February. Compared to last year, 15.8% more passengers chose a Brussels Airlines flight for their travels.
This February, Brussels Airlines welcomed 520,351 passengers on board its aircraft. That is a growth of 15.8% compared to February 2015. Exactly 443,634 passengers flew on the European network; 76,717 travelled on an intercontinental flight between Brussels Airport and Africa or the States.
Compared to last year, February had one extra day this year. However, this only partially explains the growth. The commercial success of the European flights (+14.7%) as well as the intercontinental flights (+22.5%) are at the basis of the strong increase, which allows Brussels Airlines to further reinforce its market position.
The passenger increase led again to a significant reinforcement of the load factor, which rose by 6.9 percentage points and amounted to 71.4%, like in January.
Despite the growing freight activity in Europe and on the US network, Brussels Airlines globally carried less cargo in January. This is due to the reduced availability of cargo space on the African network as a result of the higher volume of passengers and weight restrictions on the flights.
In addition to its scheduled flight activity, Brussels Airlines operates many holiday and group flights for tour operators. Passenger figures for this activity are not included in the figures of this press release.
February

2016

February

2015

Month/month difference in %

Passengers

520,351

449,526

+ 15.8

Available seat-kilometres (m ASK)

1,117.18

1,069.46

+ 4.5

Revenue Passenger-kilometres (m RPK)

797.74

689.60

+ 15.7

Freight ton-kilometres (m FTK)

11,909

15,140

- 21.3

Overall Loadfactor (Passengers & Freight)

56.5%

58.2%

- 1.7 pct. points

Passenger Load Factor

71.4%

64.5%

+ 6.9 pct, points
Figures based on preliminary data currently available.