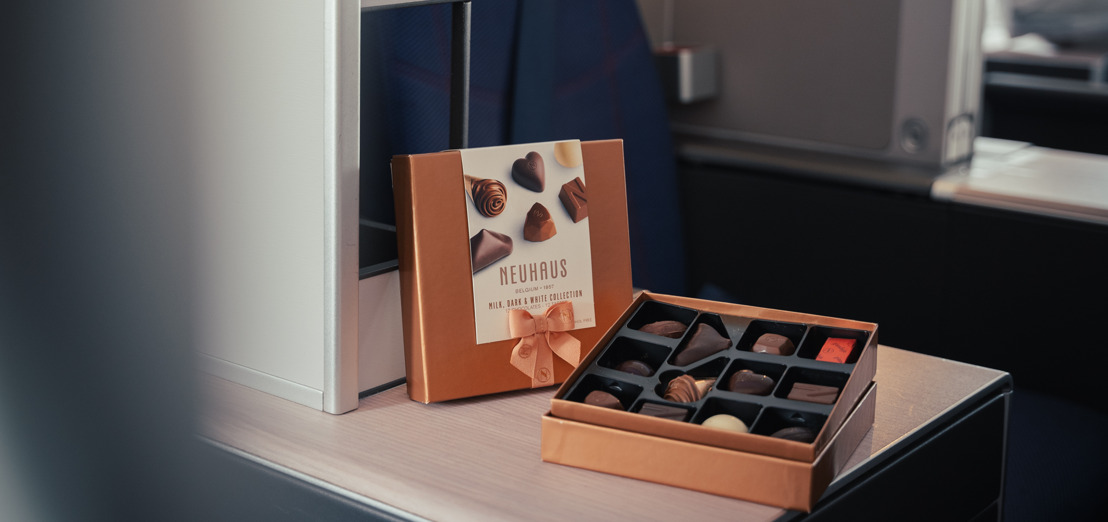 Brussels Airlines and Neuhaus reintroduce Belgian Chocolate boxes
Both companies continue to build on their 20-year partnership and spread the 'belgitude'
Brussels, May 23rd 2023 - Brussels Airlines is once again extending its collaboration with Belgian chocolatier Neuhaus. After a three-year break due to the Corona pandemic, the large praline boxes will make their reappearance on board long haul flights and every business class passenger will receive a chocolate gift box. At the lounge "THE LOFT by Brussels Airlines and Lexus" at Brussels Airport - where master chocolatier Eric Lauwers makes live chocolates - an exclusive "THE LOFT" praline has also been ​ introduced in February this year. Thanks to this unique cooperation, Brussels Airlines and Neuhaus give almost 700,000 travellers a year the chance to discover Belgian chocolate.
Brussels Airlines and Neuhaus have been flying one of Belgium's most iconic delicacies around the world together since 2003: chocolate. The two companies have been sharing common values such as passion, customer centricity and outstanding quality during their 20-year partnership. Both brands will continue to further promote the Belgian soul and identity, the so-called 'belgitude', together.
"Our partnership with Neuhaus is one of the longest-running collaborations in our existence. Chocolate is a perfect match with what we stand for as an airline: 100% Belgian passion and quality. On our long haul flights alone, more than 300,000 business class passengers can taste one of Belgium's top products."
​- Nicolas Iritcity, Inflight Product Manager, Brussels Airlines
Highly appreciated gift boxes
​The partnership with Neuhaus will be most visible to business class travellers. Brussels Airlines is reintroducing the beautiful, luxurious gift box with 12 chocolates of dark, white and milk chocolate after a three-year absence. In doing so, Brussels Airlines is responding to the demand of its passengers. ​ ​
"We are very happy to offer the Brussels Airlines' Business Class passengers their favourite chocolate on board again, a unique gift which was clearly missed by many travellers. They can treat themselves, their family, friends or business associates to it. The Original Belgian Chocolate is back on board to delight our addicted customers."
​- Alexandra Bevernage, Travel Retail Director, Neuhaus
Master chocolatier live at work
​Passengers who visit ​ the lounge 'THE LOFT by Brussels Airlines and Lexus' at Brussels Airport can enjoy a unique chocolate experience.
"In our lounge 'THE LOFT', we really pamper our guests and work closely with our partners such as Lexus and Neuhaus. Experience is central to this. Our loyal customers are familiar with the sight of Neuhaus' master chocolatier Eric Lauwers making pralines live in our lounge since 2018. Every year, more than 100,000 pralines are tasted which accounts for over 1 ton of chocolate made by Neuhaus' Mâitre Chocolatier. Since February of this year our guests can also enjoy a special praline - a manon filled with fresh cream & coffee enrobed in white chocolate - which is exclusively available in the lounge."
​- Maxim Roelen, Product Manager Cabin & Ground, Brussels Airlines
As a "flying ambassador" for our country, Brussels Airlines uses as many Belgian products as possible on board its flights. Besides Neuhaus chocolate, the airline also offers healthy fresh meals and snacks from Belgian company Foodmaker, different Belgian beers and even Belgian fries on board.
Joëlle Neeb For media requests only