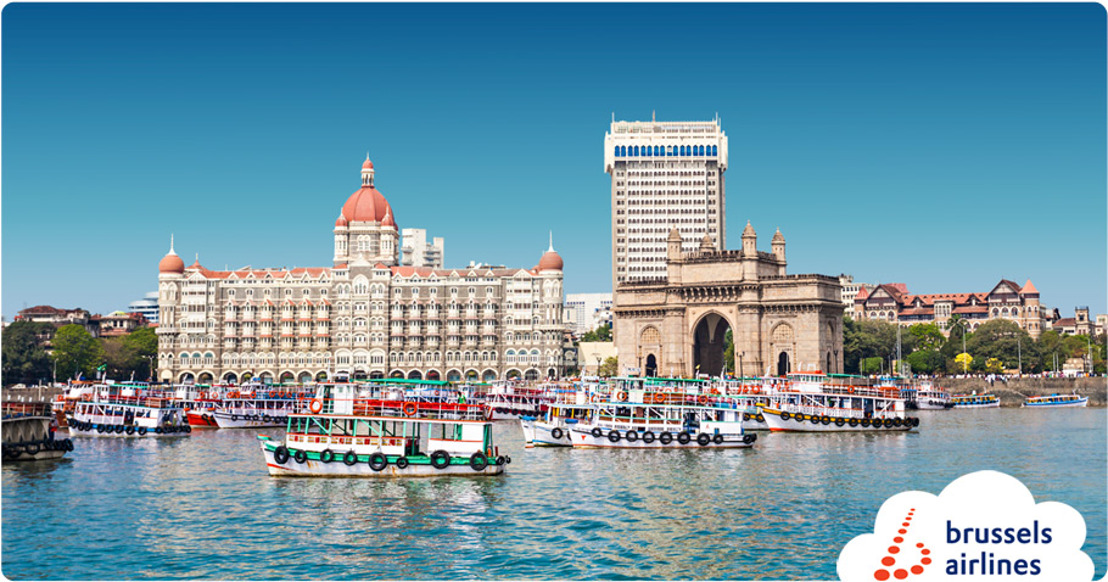 Brussels Airlines connects Belgium to India again
Direct flights between Brussels Airport and Mumbai in 2017
Thursday, August 11, 2016 — As from March 2017 Brussels Airlines will set sail for Mumbai. The Indian metropolis will be connected to Brussels Airport 5 times a week. It will the first time that the Belgian airline lands on the Asian continent and it reinforces even more its hub in Brussels, in close cooperation with Star Alliance partner Air India.
Since last March, Belgium and India are no longer connected. Brussels Airlines is to change this as from March 2017, with 5 direct flights to Mumbai's modern airport Chhatrapati Shivaji. Situated on the West Coast, Mumbai is the state capital of Maharashtra and, with its 20 million inhabitants, is ranked in the top 10 of the world's largest megacities. The city, that bore the name Bombay until 1995, is home to all of India's big financial institutions and corporations. Furthermore it is the maritime hub of the country, the stronghold of the famous Bollywood film industry and the heart of many other economic sectors (diamonds, pharmaceuticals, IT,...).
India is an important economic partner for Belgium and has a large leisure potential at the same time.
"The demand for direct flights for passengers as well as for cargo is high. With more than 50,000 passengers per year, Mumbai is the third most important intercontinental destination from Belgium. Furthermore, with this new route we can offer our guests smooth connections between Mumbai and the rest of Europe via Brussels."

-- Lars Redeligx, Brussels Airlines Chief Commercial Officer.
"With India, we add an important market to our hub. After the departure of a major Indian player out of Brussels earlier this year, we take our responsibility as the national carrier and we create additional employment for our country. The opening of the Mumbai route will lead to 200 additional jobs at Brussels Airlines and will have a positive impact on our suppliers. By next season, we offer the diamond- and travel industry direct flights, which is an important investment in our network expansion, but also in the economic relations between Belgium and India."

-- Bernard Gustin, Brussels Airlines CEO
Connectivity to rest of India, Europe, US, Canada and Africa
Thanks to a collaboration with Star Alliance partner Air India, Brussels Airlines passengers can connect seamlessly on domestic flights to other Indian cities and regions. The Mumbai-Brussels flight schedule will allow connections to many European, African and American destinations in the Brussels Airlines network.
To operate the Mumbai route, Brussels Airlines expands its fleet with a tenth Airbus A330, with a Business Class and an Economy Class and the recently introduced Economy Privilege.
Ticket sales will start in September. At that moment, the final flight schedule will be published.