Brussels Airlines continues its growth path in the month of June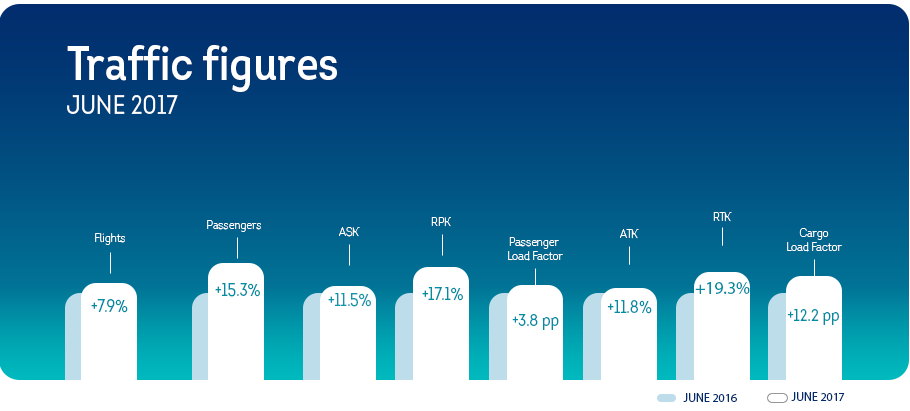 Brussels Airlines continued to grow during the past month. In total, 848,434 passengers have chosen for a Brussels Airlines flight, 15.3% more than in June 2016.
The commercial strategy of Brussels Airlines and the balanced mix of a growing range of business and leisure destinations led to an important passenger increase in June. In total, more than 112,000 additional passengers have chosen for Brussels Airlines. The seat load factor of the flights amounted to nearly 80%.
The intra-European flight offer attracted 15.7% more guests. North America flights registered a passenger growth of 7.6%. 2.3% more passengers boarded one of the Africa flights. The new destination Mumbai also yielded very good results.
With a passenger increase of 15.3%, Brussels Airlines was one of the fastest growing European airlines of the month of June.
The Brussels Airlines freight activity, expressed in Revenue Ton Kilometre (RTK), recorded a growth of over 19 percentage points.
In addition to its scheduled flight activity, Brussels Airlines operated throughout the month of June many holiday and ad-hoc flights for tour operators. Passenger results of this activity are not included in the figures of this press release.
Month

Month

VLY difference in %

jun-17

jun-16

Flights

7,523

6,974

7.9%

Total Passengers

848,434

735,862

15.3%

-- Passengers Europe

708,290

611,922

15.7%

-- Passengers Africa

78,027

76,285

2.3%

-- Passengers North America

34,351

31,927

7.6%

-- Passengers Middle East

18,044

15,728

14.7%

-- Passengers Asia

9,722

/

/

Available seat-kilometers (ASK)

1,773,088,609

1,589,891,502

11.5%

Revenue Passenger-Kilometers (RPK)

1,412,761,032

1,206,494,315

17.1%

Passenger Load Factor (%)

79.7%

75.9%

3.8%pt

Available Ton-Kilometers (ATK)

211,300

188,925

11.8%

Revenue Ton-Kilometers (RTK)

162,707

136,367

19.3%

Cargo Load Factor (%)

65.2%

53.0%

12.2%pt

Based on the latest available passenger data
Passenger and cargo results first semester
During the first semester (January-June 2017 period), exactly 4,270,721 passengers made use of a Brussels Airlines flight. That is 830,354 or 24.1% more than in the same period in 2016. The seat load factor of the flights increased by 4.8 percentage points and amounted to 76.1%. The cargo load factor was on average 67.4% and the Revenue Ton Kilometers (RTK) increased by 27%.
Month

Month

VLY difference in %

Jan-Jun 2017

Jan-Jun 2016

Flights

40,335

35,508

13.6%

Total Passengers

4,270,721

3,440,367

24.1%

-- Passengers Europe

3,528,415

2,838,283

24.3%

-- Passengers Africa

469,667

413,073

13.7%

-- Passengers North America

150,812

115,919

30.1%

-- Passengers Middle East

94,279

73,092

29.0%

-- Passengers Asia

27,548

/

/

Available seat-kilometers (ASK)

9,205,822,874

7,857,556,910

17.2%

Revenue Passenger-Kilometers (RPK)

7,008,661,775

5,608,714,485

25.0%

Passenger Load Factor (%)

76.1%

71.4%

4.8%pt

Available Ton-Kilometers (ATK)

1,096,787

935,398

17.3%

Revenue Ton-Kilometers (RTK)

813,850

640,977

27.0%

Cargo Load Factor (%)

67.4%

56.0%

11.4%pt

Deze cijfers zijn gebaseerd op de passagiersdata die momenteel beschikbaar zijn