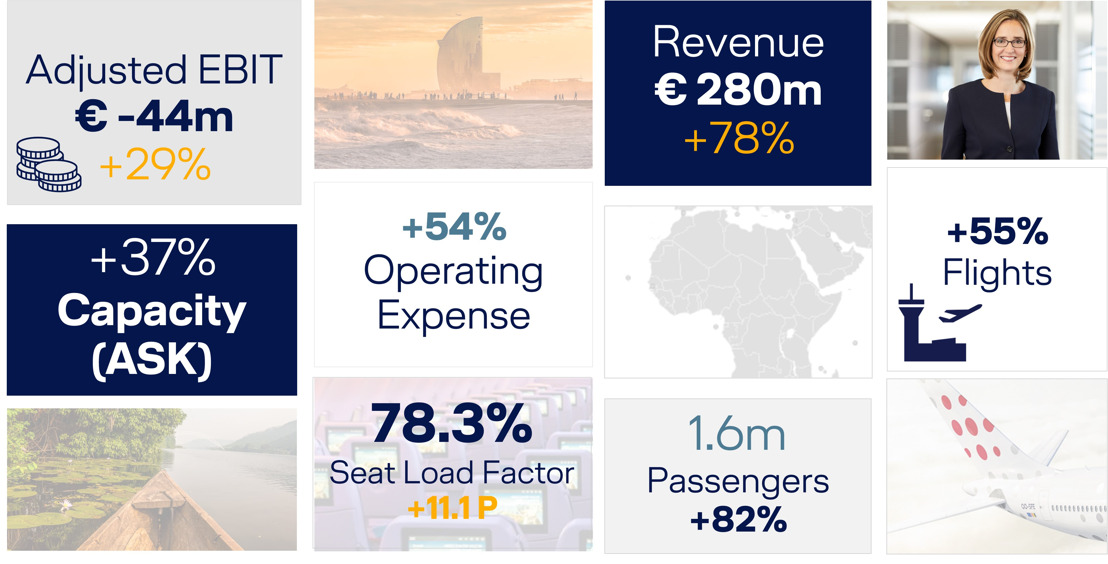 BRUSSELS AIRLINES IMPROVES FIRST QUARTER 2023 RESULT AT -44 MILLION EURO EBIT
Brussels, May 3rd 2023 - Brussels Airlines closes its first quarter at EUR -44 million, an improvement of 29% compared to the previous year. The traditionally lowest performing period of the year in the aviation industry was this time impacted by continuously high fuel prices and the skyrocketing inflation.
Brussels Airlines' revenue went up by EUR 123 million or nearly 79% year-on-year to EUR 280 million in the first quarter of 2023 (previous year: EUR 157 million), thanks to a solid increase in production of 37% (Available Seat-Kilometres) and an additional long-haul aircraft.
​During the first three months of 2022, the production was still very much impacted by the Corona crisis and only 61% versus the level of 2019. This percentage climbed to 84% in the first quarter of 2023 compared to the same period in 2019.
Operating expenses went up by a total of EUR 123 million or +54% to EUR 350 million (previous year: EUR 227 million), principally due to higher production related volume costs such as airport fees and charges or fuel consumption, price-related increase of fuel expenses, as well as the inflation and the full impact of the automatic salary indexation.
As a result, the Adjusted EBIT in the reporting period amounted to EUR -44 million (previous year: EUR –62 million).
"The results of this first quarter are in line with our expectations. The improvement of our Revenues by almost 79% and the Adjusted EBIT by 29% gives us confidence and confirms we are on track to reach solid black results for the whole of 2023."
​- Nina Oewerdieck, Chief Financial Officer at Brussels Airlines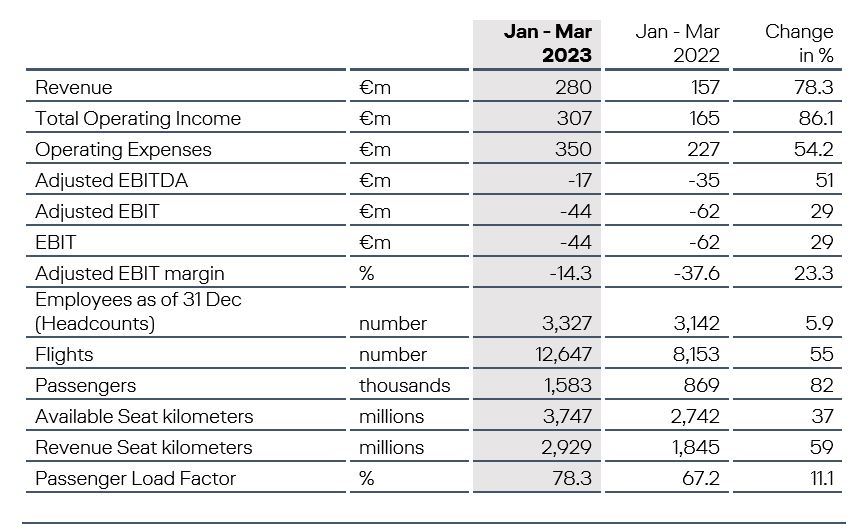 Spreading awareness on sustainability
​Fleet renewal and sustainable aviation fuel (SAF) are the most powerful levers to reduce the CO2 and noise emissions from flights. Brussels Airlines was proud to be the first airline to transport SAF through NATO's CEPS-pipeline on 1st January 2023.
Since February 15th this year, with the introduction of "Green Fares" for all flights to and from Europe and North Africa, Brussels Airlines is raising widespread awareness among passengers that they, too, can help reduce the impact of flying.
A solid base for the summer season
"For several months now, we are in continuous dialogue with the different communities within our company and our union delegates. The responsibility for the future of our airline is shared by all participants. We are confident to find agreements with all employee groups which will ensure a solid base to be prepared for the summer season."
​- Nina Oewerdieck, Chief Financial Officer at Brussels Airlines
From March 26th until October 28th 2023, two CityJet CRJ-900 aircraft will strengthen the Belgian flag carrier's fleet in a wet-lease agreement. This cooperation allows the airline to grow its fleet in a flexible manner and increase its European offer.
​Two additional Airbus A320s have joined Brussels Airlines' fleet permanently and will be deployed across the entire medium-haul network. With these measures Brussels Airlines' European operations will grow by 10% this summer.
Since April 15th 2023, Dorothea von Boxberg - previously CEO of Lufthansa Cargo - is appointed as Chief Executive Officer (CEO) and Chief Commercial Officer (CCO). She also takes on the function of "Representative of the Executive Board to the European Commission" for Lufthansa Group.
Joëlle Neeb For media requests only