Brussels Airlines invests further in its Africa network
The airline ceases its Mumbai service on 6 January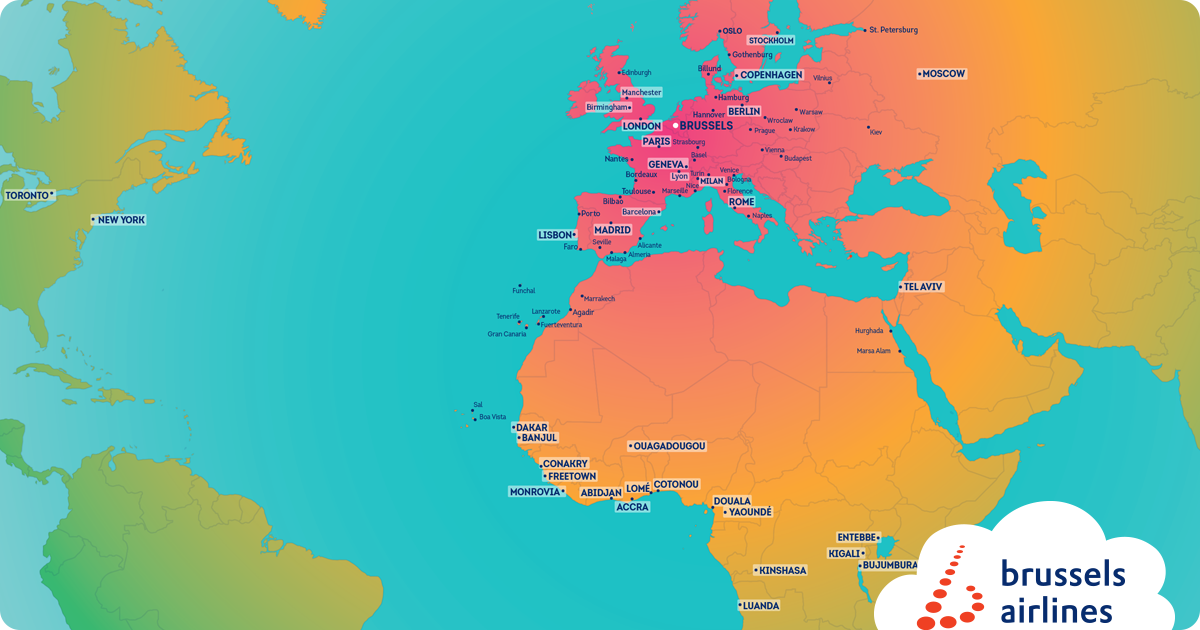 Brussels Airlines continues to invest in its position on the African market, by further reinforcing its flight offer to and from the continent. As of next year, the airline adds 3 extra flights per week to Banjul (Gambia) and will operate 3 out of the 7 weekly frequencies to Dakar (Senegal) as a direct flight, without a stop in another African airport. At the same time, the airline ceases its operations to and from Mumbai, but continues to offer its customers smooth travel options via Frankfurt, Munich and Zurich with Lufthansa Group partners Lufthansa and SWISS.
After a network expansion of 26 short- and medium-haul destinations this summer, Brussels Airlines invests further in its African long-haul network in winter. The airline will service Banjul (The Gambia) daily instead of 4 times a week. From the 7 weekly flights to and from Dakar, 3 flights will become direct flights, without a stop in another African airport from 7 January onwards, creating more capacity on the flights on Tuesday, Thursday and Sunday.

Brussels Airlines' Mumbai flights, which were launched in March 2017, will be stopped on January 6 for economic reasons, as the route does not deliver the anticipated results. At the same time, passengers still have ample alternative travel options via Frankfurt, Munich and Zurich thanks to Lufthansa Group airlines Lufthansa and SWISS. The Mumbai flight capacity will be used to refocus on Africa, the core intercontinental business of Brussels Airlines.
Customers who had booked flights to or from Mumbai after 6 January are being contacted by Brussels Airlines and are offered alternative travel solutions to get to their final destination.
On the short-haul network, Brussels Airlines adds a new destination: as from October Kiev (Ukraine) will be served 4 times a week. Furthermore the airline adds additional frequencies to existing destinations this winter season, including Alicante, Billund, Bordeaux, Faro, Geneva, Lisbon, Malaga and Tel Aviv.
Brussels Airlines is also making a significant investment this winter in its long-haul product and overall on board experience by gradually renewing the cabins of its ten Airbus A330 aircraft, launching a brand new Business Class, a renewed Economy Class and for the first time a Premium Economy Class in a separate cabin. The first refurbished aircraft will be ready in December.
New destinations starting in Winter 2018-2019:
Kiev 4x/week (as of October 2018) – all-year destination
Additional frequencies as from Winter Season (starting on 29 October)
Short Haul
Alicante +1/week
Billund +2/week
Bordeaux +1/week
Faro +1/week
Geneva +1/week
Lisbon +1/week
Long Haul (changes effective as from 7 January)
Banjul +3/week (daily service)
Dakar: remains daily service but 3 times direct