Brussels Airlines opens The Suite, new airport lounge in Brussels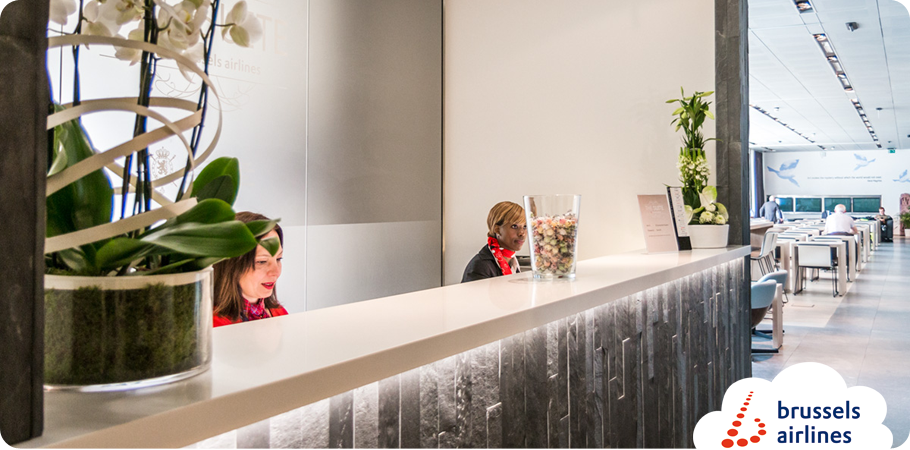 Brussels Airlines continues to go the extra smile for its customers and invest in airport comfort at Brussels Airport as well as in Kinshasa's N'Djili airport. After opening 'The Loft' in Brussels Airport's Terminal A in 2014, the airline has now also inaugurated a new lounge in Terminal B, called 'The Suite'. Compared to the previous B Pier lounge, The Suite is double the size and offers a contemporary design and relaxation to frequent flyers and Business Class passengers before their Brussels Airlines flight to the United States, Canada, Russia, Israel, the United Kingdom and Morocco.
Eighteen months ago Brussels Airlines inaugurated 'The Loft', a spectacular new lounge in Terminal A at Brussels Airport (Schengen zone), that has set itself apart with its innovative merge of physical and digital experience. In no time, 'The Loft' became the place to be for business travelers and frequent flyers. This week Brussels Airlines' list of contemporary lounges welcomes a new member: 'The Suite'.
'The Suite' welcomes all Brussels Airlines guests departing from the B Terminal (Brussels Airlines' short / medium-haul non-Schengen destinations such as Moscow, Tel Aviv, United Kingdom, Morocco, ... and since recently also the flights to the US and Canada), as well as customers of various other airlines, including Star Alliance partners.
The lounge can accommodate 160 visitors and is, like 'The Loft', composed of different areas for different travel needs. A working area is available for travelers who want to continue their work at the airport. A quiet zone is reserved for passengers who want to relax in comfortable seats before their departure. The food area offers a wide selection of beverages, snacks and salads. And a reading area is available, including a vast array of newspapers and magazines. Compared to the previous lounge, 'The Suite' has doubled in size. At peak moments, the capacity of The Suite can be further expanded offering additional space for 100 more visitors. A multilingual Brussels Airlines lounge host assists passengers throughout their stay at the lounge. As in everything Brussels Airlines does, the Belgian spirit is reflected in 'The Suite', through Belgian beers, Belgian media, Belgian culinary specialties and impressions of the surrealist art of René Magritte.
"With 'The Suite', Brussels Airlines underlines once again its role as the leading airline in Brussels", says Brussels Airlines Chief Commercial Officer Lars Redeligx. "Every year, over 500,000 guests enjoy the Brussels Airlines' "extra smile" in one of our lounges in Brussels. Following the opening of our amazing lounge 'The Loft', the launch of 'The Suite' illustrates once more our dedication to continuously improve the travel experience for our guests, both in the air and on the ground."