Brussels Airlines opens Thessaloniki in summer 2016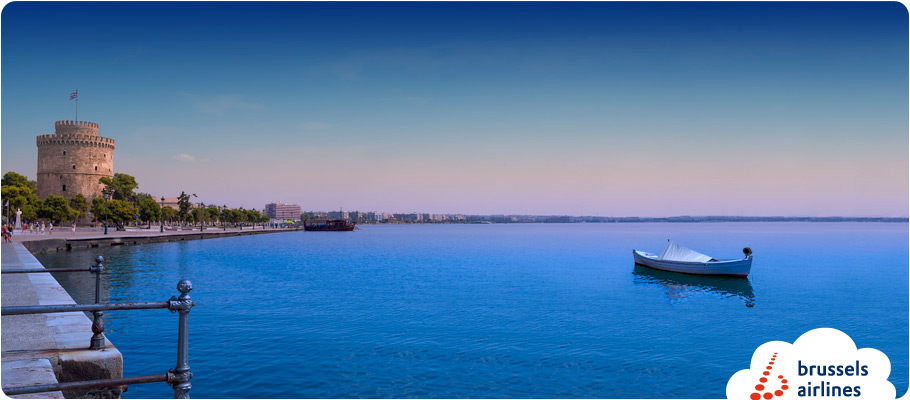 Starting in May 2016, Brussel Airlines will operate two weekly flights to Thessaloniki, Greece's second largest city. On Thursdays and Sundays the airline will set sail for Makedonia Airport , which is also the gateway to the famous tourist region of Chalkidiki.
Following the earlier announcement of a new service to Crete (airport of Heraklion), Brussels Airlines today launches another popular Greek destination: Thessaloniki.
Situated in the north of Greece, Thessaloniki is a very vibrant city thanks to its many historical attractions and nightlife possibilities. Last year Saloniki, as the locals like to abbreviate her, was named European Youth Capital, thanks to the presence of the Aristotle University which has over 80,000 students.
Thessaloniki is the ideal starting point for road trips along Greek history and the many sandy beaches. The famous Chalkidiki region, the well-known Meteors monasteries, the legendary Mount Athos and the beautiful beach resorts of the Kassandra peninsula are all just around the corner.
The new Brussels Airlines service is also aimed at the important Greek diaspora in Belgium and southern Netherlands. Many Greeks who live in Belgium have their roots in Northern Greece and return to their birthplace each summer.
"We invest heavily in our Greece offer next summer because we strongly believe in the growing tourism potential of the country for next year. With flights to Thessaloniki, Crete and Athens we fly to all the important regions of the country and we offer interesting travel options for those who travel to the mainland or the islands.

-- Frédéric Dechamps, Vice President Sales Benelux Europe et Etats-Unis de Brussels Airlines
Flight schedule
Brussels Airlines operates flights to Thessaloniki / Macedonia Airport ('SKG') twice a week between May and October. On Thursdays and Sundays the flight leaves Brussels in the morning and returns in the early afternoon. The Thursday flight connects smoothly with Brussels Airlines flights from/to Germany, Scandinavia, France and the UK. All information can be found on www.brusselsairlines.com
| | | | | | |
| --- | --- | --- | --- | --- | --- |
| Flight | From | To | Departure | Arrival | Flight Days |
| SN3231 | Brussels | Thessaloniki | 09h15 | 13h05 | Thursday |
| SN3232 | Thessaloniki | Brussels | 13h55 | 16h00 | Thursday |
| SN3231 | Brussels | Thessaloniki | 06h40 | 10h30 | Sunday |
| SN3232 | Thessaloniki | Brussels | 11h20 | 13h25 | Sunday |