Brussels Airlines prepares for the European Championship
The airline continues to be the official travel partner of the Red Devils until 2020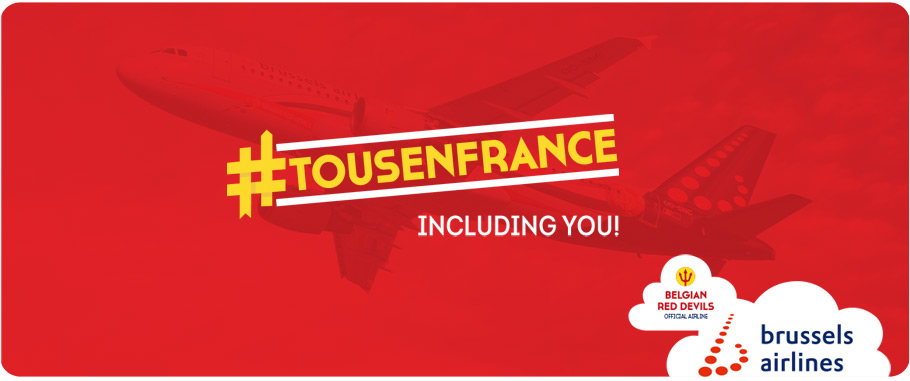 Brussels Airlines is in full preparation for the European championship in France. During the tournament, the Belgian airline will again fly the Red Devils to their games. Brussels Airlines and the Royal Belgian Football Association (RBFA) prolong their contract until 2020. This was announced today at a press conference in the presence of Marc Wilmots, manager of the Belgian national team.
The Red Devils will fly Brussels Airlines to get to their European championship games in France. They will also count on the Belgian airline for their training camp in Switzerland, all qualification games of the World Championship in 2018 in Russia and the European Championship in 2020. The players who play in competitions abroad, continue to fly Brussels Airlines to get to their national trainings from Manchester, Madrid, Marseille, London, St Petersburg, Rome, Barcelona,…
The Red Flames, the national youth teams, scouters and referees will also make use of Brussels Airlines. The new contract foresees that Brussels Airlines remains the official airline of the Red Devils, at least until 2020.
European Championship 2016
For the European cup, Brussels Airlines provides the national team with a special aircraft in a Devilish design. The players themselves have helped to create this unique aircraft livery, which will be unveiled to the public in March.
Brussels Airlines is not only the official airline of the national football team, but also of the fans. That's why the airline offers "TousenFrance" experience packages and flights, with which fans can join 180 other Red Devils supporters in France to root for their team. More information on www.brusselsairlines.com/tousenfrance
Brussels Airlines flies to seven of the nine host cities of the European Championship. In total, the company offers 86.853 seats for sale between June 10 and July 10 and expects to welcome many football enthusiasts who will travel on their own to France. To meet the high demand, the company schedules extra flights during the European Championships and will operate as much as 656 flights to Marseille, Nice, Toulouse, Paris, Lyon and Bordeaux.
Natural partners
"We are extremely happy to extend our partnership with the Red Devils and the Royal Belgian Football Association", says Brussels Airlines Chief Commercial Officer Lars Redeligx. "With to our extensive European network we are a natural partner for the Red Devils. We know how important it is for the players to travel comfortably and we therefore take great care in their flights."
Together with the Red Devils, Brussel Airlines is an ambassador for Belgium abroad. "This cooperation fits perfectly into our Belgitude philosophy and our strategy to support the great Belgian sports and bringing people together", says Lars Redeligx. "We want to show the entire world what makes Belgium so unique. The Red Devils fit into that picture seamlessly, next to Tintin, our Belgian Star Chefs, Tomorrowland and so many other Belgian icons that get a place on board our aircraft. All Brussels Airlines colleagues look forward to continue to welcome the Red Devils on board and to pamper them."
"We are happy that we can extend our great cooperation with Brussels Airlines for the next 4 years. As a company proudly waving the Belgian flag, they are a great fit for us and make a flexible and qualitative partner for our Devils as well as for our other operations", says Filip Van Doorslaer, RBFA's Director Marketing and Events