Brussels Airlines registers 4.6% ​ passenger growth in August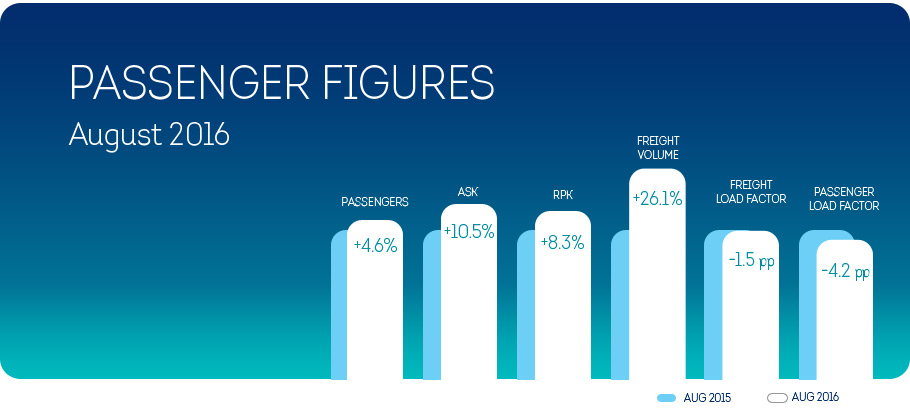 743,750 passengers flew Brussels Airlines in August, which is an increase of 4.6% compared to last year. The most popular destinations were holiday destinations in Spain, Portugal, Italy, Greece and France.
Many holidaymakers flew with Brussels Airlines to southern destinations in August. The strategy to increase the number of flights to popular holiday regions in Spain, Greece, France, Portugal and Italy clearly paid off. The number of passengers on the European network grew by 3.4%, while the African flights welcomed 3.5% more passengers. On the North American network an increase of 36.2% was registered, mainly due to the new Toronto route.
The seat load factor of the European flights amounted to 79.7%, on board the African flights the seat load factor was 91% and on the US and Canada 84.1%. The transported freight volume increased by 26.1% to 2,972 tonnes.
In addition to its scheduled flight activity, Brussels Airlines operates many holiday and group flights for tour operators. Passenger figures for this activity are not included in the figures of this press release.
August

2016

August

2015

Year/year difference in %

Passengers

743,750

710,882

+4.6

Available seat-kilometres (in millions)

1,598.49

1,446.38

+10.5

Revenue Passenger-kilometres (in millions)

1,313.66

1,213.30

+8.3

Freight tonnage

2,972

2,357

+26.1

Freight Load Factor

56.6%

58.1%

-1.5 pts

Passenger Load Factor

81.1%

85.3%

-4.2 pts
Figures based on results currently available