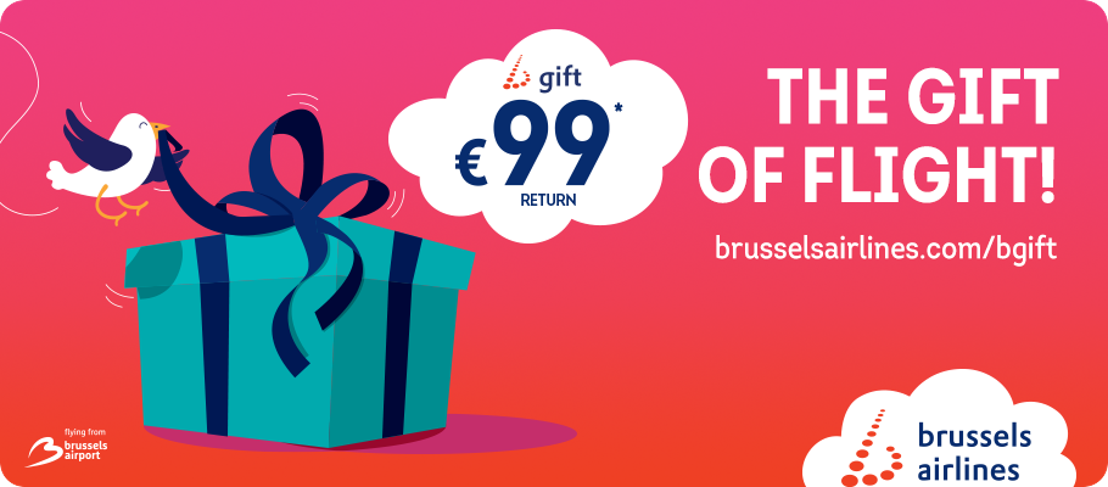 Brussels Airlines relaunches b.gift, the most original holiday present
Wednesday, December 4, 2019 — This year again, Brussels Airlines launches its b.gift, a flight gift-card to spoil a loved one during the holidays. With the gift-card, the airline is offering the possibility to put a city break, a sunny holiday or a trip to North America under the Christmas tree.
Brussels Airlines puts flights under the Christmas tree again, as quality time is still the most valuable gift. Many people book their next city trip or sunny vacation during the winter holidays, making Brussels Airlines' flight gift-card a popular present for a loved one or simply for oneself.
As from today, 3 december 2019, until 3 January 2020 gift-cards are for sale on brusselsairlines.com/bgift offering flights to 50 destinations. A gift-card containing 1b.gift (99€) offers a check&go flight ticket towards 36 European City destinations*, while a gift-card containing 2 b.gifts (198€) offers you a light&relax flight to 11 sun destinations* and a gift-card containing 4 b.gifts (396€) gives you the opportunity to discover the wonderful city of New York, Montréal or Washington D.C.
B.gift receivers can book their flight online (brusselsairlines.com/flywithbgift) from 10 January until 13 March 2020, and fly between 18 January and 21 June 2020.
More information on brusselsairlines.com/bgift
*The b.gift destinations:
36 "City" destinations
Basel, Berlin, Bilbao, Billund, Birmingham, Bologna, Bordeaux, Bristol, Budapest, Copenhagen, Edinburgh, Geneva, Gothenburg, Hamburg, Hannover, Krakow, Ljubljana, London, Lyon, Madrid, Manchester, Marseille, Milan Linate, Milan Malpensa, Nice, Oslo, Prague, Rome, Stockholm, Toulouse, Turin, Venice, Vienna, Vilnius, Warsaw, Zagreb.
11 "Sun" destinations
Alicante, Athena, Barcelona, Dubrovnik, Faro, Florence**, Lisbon, Malaga, Naples, Porto, Valencia.
**Destination available as from 31 March 2020
3 "America" destinations
New York, Montréal** or Washington D.C.*
**Destination available as from 31 March 2020
*Destination available as from 20 February 2020