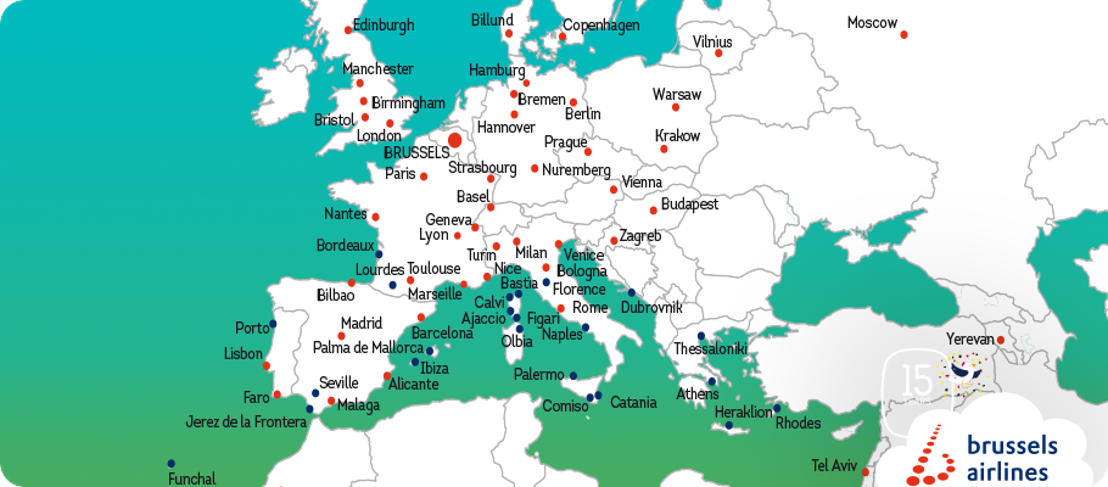 Brussels Airlines sets sail for India and other new destinations in 2017
Thursday, February 23, 2017 — On March 26, Brussels Airlines welcomes the summer season with new destinations and higher flight frequencies. Highlights of the schedule are the launch of the new Mumbai route and the growth of the European network with new leisure destinations.
Both the European and intercontinental offer grow significantly during the 2017 summer season, which runs from end of March till October. In an average summer week, Brussels Airlines offers 8 percent more seats compared to last year. An overview of what's to come:
Short and mid haul
With Palma de Mallorca (Spain), Rhodes (Greece), Funchal (Portugal) and Comiso (Sicily), Brussels Airlines adds 4 popular vacation islands to its network of leisure destinations.

Yerevan (Armenia), a destination that already welcomed Brussels Airlines charter flights during the winter season and was not directly connected to Belgium before, will be operated weekly and even two times per week in July and August.
Brussels Airlines also increases its number of flights to many existing destinations. Porto and Lisbon are served twice a day during the whole summer and Faro in the Algarve is served daily. The popular vacation destination Alicante (Spanish Costa Blanca) will also be connected daily. More frequencies are also added on the routes to Ibiza, Billund, Bordeaux, Paris CDG, Nantes, Naples, Warsaw and Athens.
The seat offer to Milan Linate, Milan Malpensa, Oslo, Marseille, London Heathrow, Florence, Bologna, Madrid, Rome, Geneva, Vienna and Hamburg will also grow significantly thanks to the use of larger aircraft on these routes.
Intercontinental
India
The biggest newcomer in Brussels Airlines' intercontinental network is Mumbai. From March 30, Brussels Airlines flies 5 times weekly to the economic heart of India. The Mumbai-Brussels flights can all be combined with Brussels Airlines' connections to Africa, the US and Canada.
Africa
Abidjan (Ivory Coast) will be served daily during the summer season, instead of 6 times weekly. Accra's frequency increases from 4 to 5 flights a week.
North America
Summer destination Washington D.C. relaunches for the season and will be served 6 times a week as from end of March. The Canadian Toronto will be connected to Brussels Airport 5 times per week and New York remains a daily destination. Travelers who want to connect to one of the many other North American destinations that Brussels Airlines offers in partnership with Air Canada and United, can connect smoothly via Toronto and Washington.