THE LOFT by Brussels Airlines and Lexus at Brussels Airport named "Europe's Leading Airport Lounge 2019"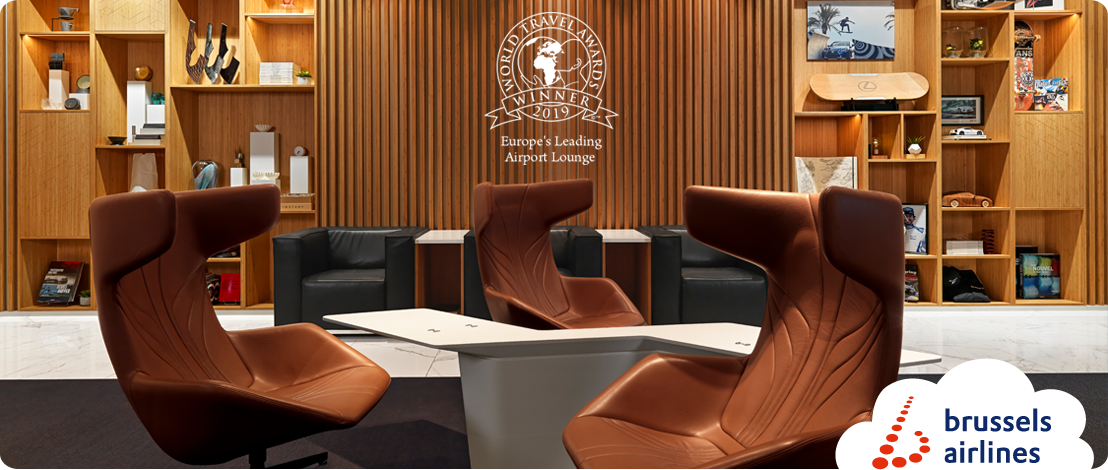 The 26th annual World Travel Awards has named THE LOFT by Brussels Airlines and Lexus @ Brussels Airport Europe's Leading Airport Lounge 2019.
The World Travel Awards, a prestigious and globally recognized honours programme in global travel and tourism, celebrate organizations that are recognized for their commitment to excellence. Votes are not only performed by customers, but also by travel and tourism professionals.
THE LOFT by Brussels Airlines and Lexus is a unique lounge concept, centred on comfort, technology, design and a blend of 'Belgitude' and Japanese hospitality.
"We are extremely proud to receive this prestigious award from travel industry professionals and from our customers. It shows that customer centricity is not just a "buzz" word for us, but that we take it really at the heart in everything we do. The award encourages us to continue investing in our welcoming service approach that is reflected throughout all customer touch points", says Tanguy Cartuyvels, Head of Customer Experience & Marketing at Brussels Airlines. "THE LOFT by Brussels Airlines and Lexus is a perfect example of how working together with partners like Lexus, who is driven by the highest quality services, enables us to offer our customers an ideal environment, designed to meet their individual needs".
Pascal Ruch, Head of Lexus Europe, said: "We are delighted that the travel industry recognized the unique experience brought to business travellers by Lexus and Brussels Airlines through our lounge partnership at Brussels Airport. For Lexus, this partnership is an exciting opportunity to bring our core brand values of design and craftsmanship to a global audience, reaching beyond the automotive world. This is a place where people can enjoy and get to know Lexus' true spirit of Omotenashi, the Japan-inspired personalized and exceptional guest experience we bring to our guests."
THE LOFT by Brussels Airlines and Lexus opened its doors on June 25, 2018 as a relaxing new space for international travellers inspired by Lexus luxury, design and Omotenashi hospitality. Since the opening, the lounge has already welcomed more than 450,000 visitors.
It marks a further expansion of Lexus beyond the premium automotive world as a global luxury lifestyle brand. Lounge guests are provided with a wealth of facilities to make their visit comfortable, relaxing and enjoyable, together with opportunities to immerse themselves in the world of Lexus.
Covering an area of 2040m2, THE LOFT by Brussels Airlines and Lexus offers seating for 500 guests. It is divided into areas with different ambiences and features, including a central bar, seating zones and a break-out space that's ideal for those who need to work while on the move.
A unique blend of premium features are offered to visitors:
Japanese hospitality values brought by Lexus
Chocolate experience hosted by a Neuhaus maître chocolatier
At home SPA Grohe shower suites
Individual nap rooms with star lid ceiling
Lexus LS Shiatsu-effect massage chairs
Variety of fresh organic dishes and drinks by Foodmaker and Rombouts
Beer taps including best Belgian beers
Plastic bottles-free living space
Award winning arts and inspirational sleek design elements by Lexus
Dedicated Mark Levinson hi-end audio listening room
Regular events ranging from wine tasting to music ensembles
THE LOFT by Brussels Airlines and Lexus is located in Pier A of Brussels Airport and open daily from 5am to 9pm.
The Lexus zone has been designed by FITCH, a retail and brand consultancy which has also produced a successful design concept for Lexus' European retailer network. It has been able to expand some of the ideas explored in that project and introduce new and exciting features, drawing further inspiration from the INTERSECT by Lexus brand experiential centres in Tokyo, Dubai & New York.
# # #
More information on THE LOFT by Brussels Airlines and Lexus and about the other partners of the lounge can be found at : https://press.brusselsairlines.com/brussels-airlines-extends-the-loft-at-brussels-airport